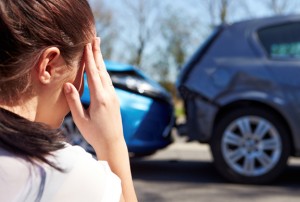 Steps to Take if Involved in an Auto Accident
No one likes to think about being involved in a vehicle traffic accident, but it is important to plan ahead to alleviate stress and confusion. Insurance issues are the most common concern
Natomas Auto Body & Paint, Inc. has prepared a few tips to assist you in the event of an automobile collision.
Be prepared before it happens
Insurance policies can often times involve a ton of fine print. Knowing exactly what your insurance policy covers is key. Make sure you have your insurance information; name of provider, policy number and phone number in both your wallet and your glove box. You can also store your information in a cell phone for quick access.
Check all individuals and property involved
Obviously the first thing you want to do is make sure everyone involved is OK. If anyone has a serious injury call 9-1-1 for immediate medical assistance. Your next call should be to the police department to obtain a police report, even for minor accidents.
If your vehicle is not completely disabled it should be moved off the roadways and out of the path of any oncoming traffic.
Call your insurance provider immediately
The sooner your insurance provider is alerted of a collision, the better. You do not want to wait for the other vehicle involved to call your insurance carrier as it  may actually raise eyebrows. It is recommended that you report the incident the same day it occurred.
Gather pertinent information
If at all possible, use your cell phone to document the damage to all vehicles involved by taking detailed photos. Write down the name, contact information and insurance information of all parties involved. Now is also a good time to write down any details of the incident while they are fresh in your mind. Names and contact information from any potential witnesses may also assist in the claims process.
Never admit guilt
Express concern for any injuries or personal property damage sustained during the automobile collision, but do not admit you were at fault. This is an emotional response and it may turn out you were actually not at fault in the first place. It is not necessary to answer any questions or make comments that may make a law enforcement investigation less desirable.
Track repairs
Choose a collision repair shop that will assist you with keeping abreast of your repair process. The insurer will want the repairs to be done in the least expensive manner possible. Keep in mind you have the right to choose the body shop of your choice and have original manufacturer parts utilized throughout the entire repair process.
If you are in need of a free auto body shop estimate call or visit Natomas Auto Body & Paint, Inc. at one of our three locations. Be sure to program our locations in your cell phone for immediate assistance.
Sacramento, CA                 Yuba City, CA                      Davis, CA
916.925.3565                        530.755.2928                        530.756.0350
Natomas Auto Body & Paint, Inc.
"Where Excellence Is Our Commitment"