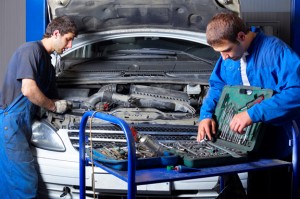 5 Tips for Choosing the Best Auto Body Shop
It's not uncommon for estimates from different body shops to vary wildly. What's the difference? And when is it OK to choose the cheaper shop? Can I get as many estimates as I like or do I have to take my car to the repair center my insurance carrier suggested?
Natomas Auto Body & Paint, Inc. has prepared a few tips to assist you in choosing the best auto body shop for you.
Word-of-Mouth
Any business can advertise, but you'll do better with a shop that friends, family or acquaintances recommend. It may not be the biggest or best known shop in your area, however "knowing" they can satisfy customers should put your mind at ease when choosing a reputable auto collision repair center.
Many family-owned shops offer outstanding customer service, fair prices and stay in business by word of mouth.
In some cases, you may get a recommendation for a small shop where the owner works on the cars himself. This may be best if you are looking for a personal experience where you can understand what's really going on with your car.
Auto Repair Center's Location and Overhead
Labor hours can really add up in the auto collision repair industry.
Large body shops with a lot of front-office workers are more likely to charge higher rates to pay their staff. While service delivered by front-desk folks, managers and foremen gives some people a feeling of confidence in the business, it can result in estimates that are padded with non-essential work. Charging additional labor hours at a higher rate, your bill can add up quickly.
Look for a body shop that clearly posts its labor charges, uses a reference guide that estimates the number of hours required to perform common repairs and get these fees up front, before you agree to any automobile repairs.
Obtain Several Estimates
Taking your car to several auto body shops for repair quotes is the best way to avoid overcharges. You are not required by your insurance carrier to utilize the auto body shop they recommend.  Also, you are not limited to the amount of estimates you obtain for your vehicle collision repairs.
And while it's important to protect against being overcharged, you shouldn't simply take the lowest quote. You need to feel comfortable in your overall body shop repair choice…with all things considered.
Be Inquisitive
Go in smart… ask key questions. Does the shop provide a written warranty? And if so, for how long? What does the warranty cover?
A one-year warranty is a minimum, however Natomas Auto Body & Paint, Inc. offers a lifetime warranty for as long as you own the vehicle.
Another key question is whether the shop carries fire and theft insurance. You want to be sure you're covered if your car is destroyed, stolen or burglarized. Don't forget to ask how long the shop has been in business or about any certifications they may have.
You will also want to know about the materials the shop intends to use. Are new, used or aftermarket body parts going to be used? New parts are obviously the best and used parts are fine, though they don't offer the savings people imagine.
Depending on the damage to your vehicle, aftermarket parts can save a lot of money and can be just as good as the ones that come from the original manufacturer. If your vehicle will require paint, ask how many coats of paint and clear coat the shop intends to use.
Follow your Instincts
Finally, it's important to trust your intuition about the shop you're considering. If a shop isn't busy, maybe there is a reason… If the place is really dirty, cluttered or disorganized, this might reflect the kind of work you could expect the shop to do with your car. Is the auto body shop staff friendly and willing to answer all of your concerns in advance? You'll be happier with a shop where the owner communicates well and is straightforward with customers.
Trust your gut. If your gut tells you these are good guys…well then they probably are.
If you are in need of a free auto body shop estimate call or visit Natomas Auto Body & Paint, Inc. at one of our three locations.
Sacramento, CA                 Yuba City, CA                      Davis, CA
916.925.3565                        530.755.2928                        530.756.0350
Natomas Auto Body & Paint, Inc.
"Where Excellence Is Our Commitment"