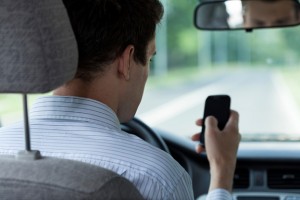 Whether you drive a company vehicle, commute to and from work or just commute throughout the Sacramento area, this issue is very important. Driving while distracted has become a dangerous practice both nationally and locally.
What Is Distracted Driving?
There are three main types of distraction:
Visual — taking your eyes off the road
Manual — taking your hands off the wheel
Cognitive — taking your mind off what you're doing
Distracted driving is any non-driving activity a person engages in that has the potential to distract him or her from the primary task of driving and increase the risk of crashing.
While all distractions can endanger drivers' safety, texting is the most alarming because it involves all three types of distraction.
Other distracting activities include:
Using a cell phone
Eating and drinking
Talking to passengers
Grooming
Reading, including maps
Using a PDA or navigation system
Watching a video
Changing the radio station or CD
Statistically Speaking
In 2013, more than 3,000 individuals were killed in auto accidents due to distracted driving. This is nearly a 7% increase from the previous year.
10% of drivers involved in distracted driving fatal car accidents were under the age of 20.
27% of distracted drivers involved in fatal automobile collisions are in their 20's.
Your eyes are off the road for an average of 5 seconds while texting and driving.
Headset cell phone use is not substantially safer than hand-held use.
Natomas Auto Body & Paint, Inc. urges you to not become the next statistic. When driving, take your safety and the safety of those around you into consideration. Put your phones down. Wait to apply that lip-gloss. Pull over to read your map. It may be a matter of life or death.
If you are in need of a free auto body shop estimate call or visit Natomas Auto Body & Paint, Inc. at one of our three locations.
Sacramento, CA                 Yuba City, CA                      Davis, CA
916.925.3565                        530.755.2928                        530.756.0350
Natomas Auto Body & Paint, Inc.
"Where Excellence Is Our Commitment"